Another new game?! - June 3rd, 2007
I've been doing a bit of travelling lately, which handily explains both the lack of updates and the delayed announcement of yet another adventure game!
Remember that graphic design commission I mentioned a while back? It came from the one and only Dave Gilbert, the independent game developing powerhouse who gave us The Shivah and The Blackwell Legacy. Much to my surprise, he contacted me to do the graphics for the next installment in the Blackwell series: Blackwell Unbound. My inner eight-year-old hasn't been so happy since I stole that ice cream cone from a clown.
There's a synopsis of the game over at Dave's site, but if you want to hear it from me, here goes:
You play as spirit guide Lauren Blackwell and her ethereal lifemate Joey. Together they travel the streets of New York helping lost souls reach 'the other side.' Sometimes, this requires a bit of field work:
Or some tricky "puzzle-solving" logic: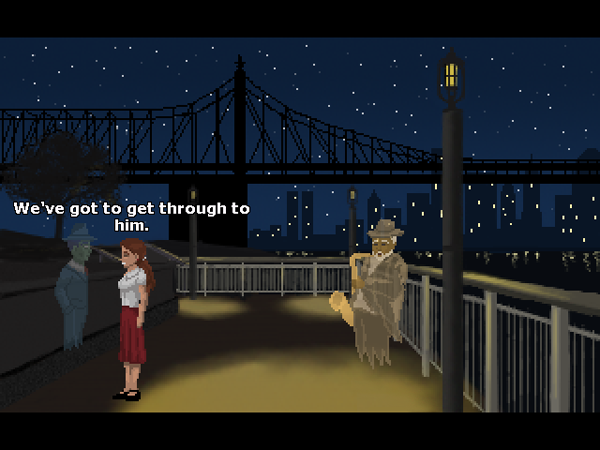 In all seriousness, I'm absolutely thrilled to be involved with a commercial game, and Dave is awesome to work for. "Unbound" is due to be released in mid-August, probably around the same time we'll be seeing Nanobots. Next week I'm fleeing the country for about two months (fine, "vacationing") so I might not be updating much. That doesn't mean I don't love you, internet, it just means we should see other people for a while. Possibly…people in Europe.
Amicably,
~Erin