Diorama-Rama - November 6th, 2007
Sit back and be amazed by the following: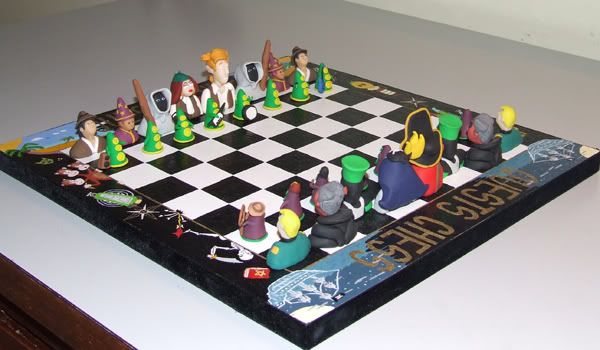 QUESTS CHESS! Made by BioJ, one of my readers/personal heroes.
Edit: You may also know him from the Adventure Gamers forums as "The Mutajon."
Here are the good guys:

And the forces of evil:

All painstakingly rendered in Fimo clay. Speaking as someone who wasted their childhood both playing adventure games and making tiny things out of clay, I totally wish I'd thought of this. Instead I just put my talent to use making dioramas.
Segue!
I did these a couple years ago for a science fair held in a local bar. Like how grade 5 should have been.
The first diorama I did was about the dangers of "global cooling." Think murderous penguins.
I made the hill out of a Tim Horton's cup.
Oh ho…so politically incorrect.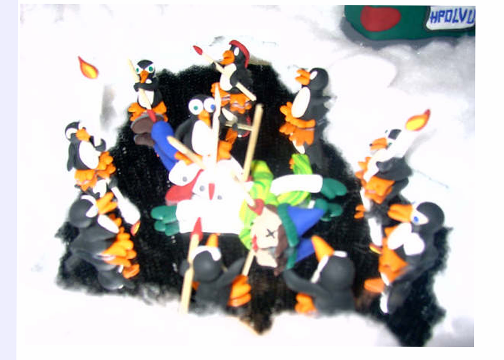 In case you can't tell that's a hapless victim sprawled on some "ice."
I ended up winning almost $100 in gift certificates, certainly not because I sold the penguins for audience votes. Nope.
This was the one I made the next year. I apologize for the webcam-quality photos. It's a diorama…of a science fair!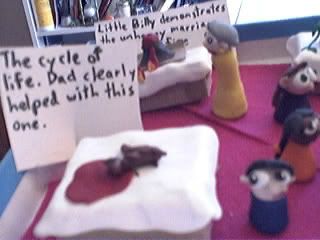 Last but not least, here are the original Nanobots that led to the game idea. They were a birthday gift for my friend Kevbot, just like the game was supposed to be his Christmas present last year. Heh…oops.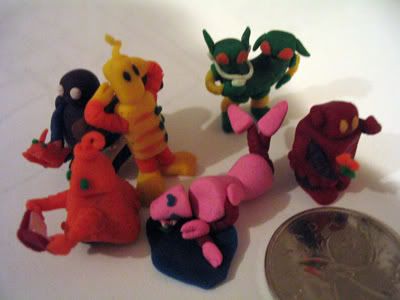 Notice the quarter.